Allow us to introduce you to our community...
Southern Properties Agency, Inc. has been serving DeKalb County and surrounding areas in Residential, Land and Commercial real estate sales and service since 1992. Southern Properties is located at 311 Gault Avenue North, Fort Payne. Southern Properties is made up of 14 Realtors and we are anxious to serve you in ALL your Real Estate needs.
Our website gives you internet access to all properties for sale region wide, including Fort Payne, Rainsville, Mentone, Sylvania, Collinsville, Henagar, Fyffe, Geraldine, Ider, Valley Head, Crossville, DeKalb County and more...
We can show you any property for sale in the DeKalb County area, regardless of who the listing agent is. Use this website to search all listed Homes and Properties for sale in the DeKalb County, AL area as well as surrounding areas.
If you're looking for real estate, homes or property in the DeKalb County, AL area, we can help you choose the right home or property for your needs and will guide you toward making an informed real estate decision in the DeKalb County market. We pride ourselves in being able to give all our clients and customers important local information based on years of living and enjoying all the DeKalb County, AL area has to offer.
If you are a seller, we can help price and put your DeKalb County, AL home or property on the market for a quick sale. If you'd like to find out the value of your DeKalb County, AL home or property, go to our "Your Home Value" page and submit a CMA request. We will research the value of your home or property for you. This is a free service provided by Southern Properties Agency, Inc.
This site is designed to help you make the important decisions needed to purchase or sell real estate, homes, or property in DeKalb County, AL. Bookmark it for future reference and feel free to call (256) 845-6000 or e-mail us at info@southern-agency.com for all of your real estate needs.
Voted as 1 of the 25 Best Places to Retire

FORT PAYNE, ALABAMA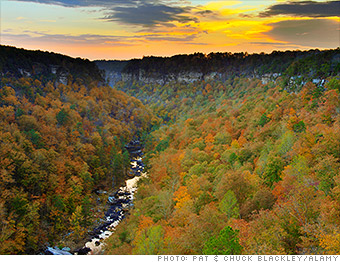 Best if you're looking for: Small town
Median home price: $110,000
Top state income tax: 5%
For most people, Alabama doesn't conjure images of mountain peaks, river gorges, and waterfalls. That's probably because they've never been to Fort Payne, which is tucked between Lookout Mountain and Sand Mountain.
Figuratively, Fort Payne is a long way from the city; quintessential small-town activities include an annual fiddling convention that dates back to 1908. It's also a stop along the "world's longest yard sale," a four-day event in August that spans 675 miles.
In reality, though, it's an hour's drive from Chattanooga and two hours from Atlanta.
Source: OnBoard Informatics; NOAA; Zillow; Trulia; National Association of Realtors; Tax Foundation; MONEY research Notes: Home cost is median sales price except for Bloomington, Aberdeen, Ottawa, Traverse City, Coeur d'Alene, Fredericksburg, and St. George, which had only median list price available. Security income excluded in all states listed except Utah; most states exclude some pension income.
By Sarah Max @Money

TESTIMONIALS: